Digital AdTech Firm's CTO Focuses on Strategic Cybersecurity Alliances to Build Resiliency for Digital Turbine
Digital Turbine, a leader in mobile advertising, chooses VerSprite Enterprise Risk Assessment and Pen testing services to enhance their security framework, identify probable risks, and gain visibility into its expanding attack surfaces associated with new acquisitions.
A fast-growing public company with offices in 23 countries and over 500 advertiser relationships, Digital Turbine is the leading growth and monetization platform on a mission to change the mobile advertising landscape. A company's story is one of resilience and business growth, creative evolvement, and expansion through partnerships and acquisitions. Its mission is to level up the landscape for advertisers, publishers, carriers, and OEMs.
The expansion and integration of new platforms and technologies, as well as becoming a publicly traded company (APPS), raised the baseline for security of the company and its clients. Digital Turbine knew that they needed to ensure data security and privacy of their business customers and develop a framework that goes beyond the compliance requirements.
Security is a pillar. It should be the forefront of every organization's strategy, not an afterthought,"

Christine Collins, CTO of Digital Turbine
Digital Turbine Prioritizes Cybersecurity as a Part of Multiple Acquisitions
As Digital Turbine moves to the cloud, namely Google Cloud Services, and undergoes expansion, rapid business growth, and changes in its operating environment, they recognize the need for a strong security posture through incorporating continuous testing and assessments to provide their security team with required data and resources to protect the company and its customers.
"Cybersecurity has been a priority from day one," says Christine Collins, Digital Turbine CTO, who is heading the organization's technology strategy to deliver end-to-end products for customers. "We knew we needed to partner with a third-party company to bring in cybersecurity expertise."
Digital Turbine relied on VerSprite services to provide customized security testing. The focus was initially on a compliance angle and doing basic penetration testing, as well as vulnerability assessments. As the security profile of the company changed with the merging of infrastructures, VerSprite assisted in identifying areas of potential risk that needed to be addressed immediately. This year, Digital Turbine's in-house security team is continuing the partnership with VerSprite to take security to the next level and ensure optimal protection and operation.
Digital Turbine Builds a Security Program by Leveraging a Baseline via VerSprite's Enterprise Risk Assessments
VerSprite Enterprise Risk Assessments build tailored engagements to fit both organization's security needs and business objectives. ERA helped Digital Turbine to address critical issues and identify and qualify probable risks. The results aided in the formation of a stronger vulnerability management program.
"We were able to implement and manage the detection and response service, which just went live in September. The VerSprite team also helped with the strategy and ensuring that our business objectives aligned with the best security practices. The company's team of experts has been very collaborative and worked with us to customize the services and adjust them to our maturity level."
Christine Collins believes that security should be the forefront, not an afterthought. Working with prominent global companies, Digital Turbine prioritizes their product security and treats data security as a core element of the company, expanding it from just an infrastructure into a product, partnering the vast amounts of data and security to product enablement. The new security architecture gives Digital Turbine a competitive advantage, which in turn drives company's revenue and allows the business to scale. This commitment to the security and protection of clients is what makes Digital Turbine stand out and deliver superior services.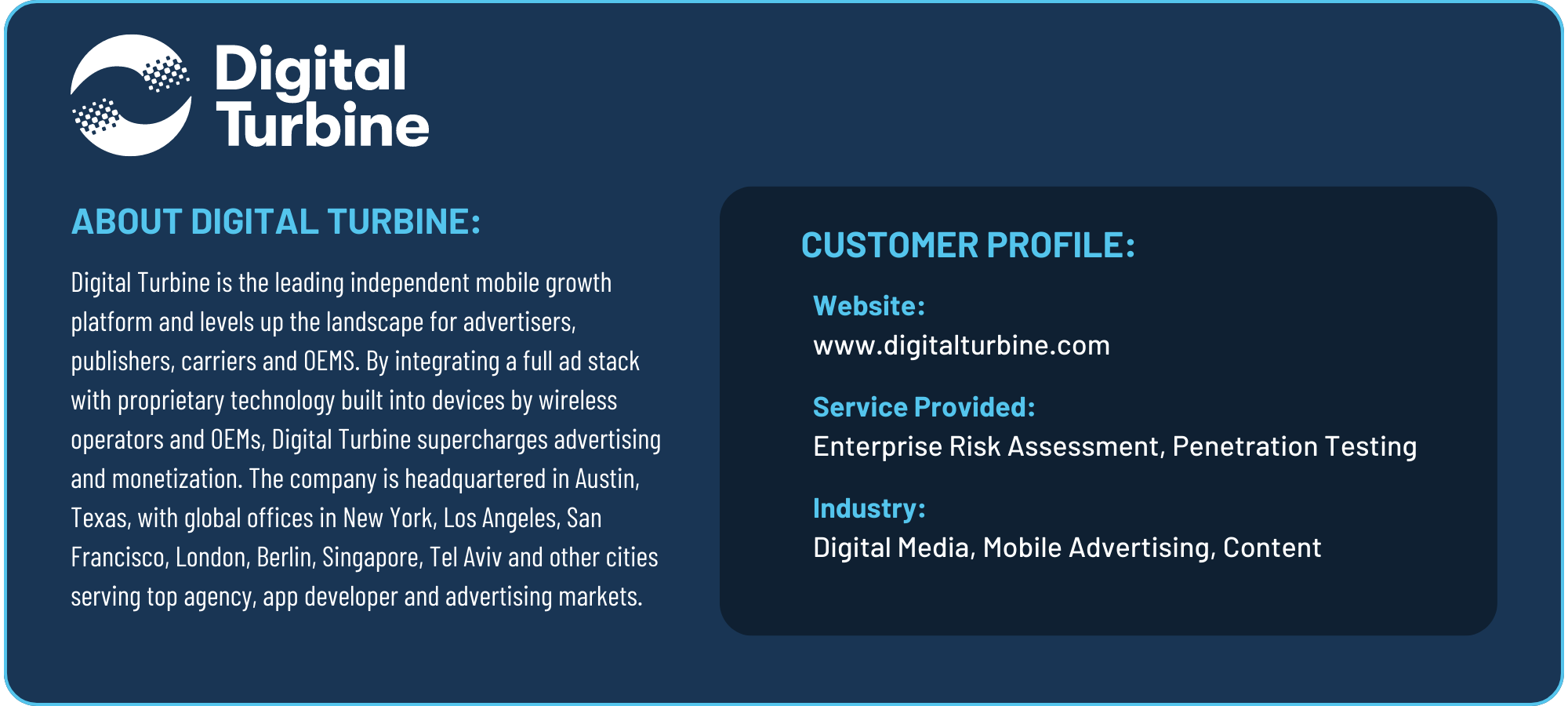 Subscribe for Our Updates
Please enter your email address and receive the latest updates.