Regulatory Compliance
Why Run Compliance Efforts Apart from Security Efforts?
Operationalize Compliance Efforts into a Security Program
VerSprite understands these challenges and the only firm that has the vision to operationalize compliance efforts into a security program. Why run compliance efforts apart from security efforts if you can align the two in order to both save money as well as not let a compliance driven program be your security defense strategy?
Via its tailored, managed service offerings, VerSprite has been able to operationalize both regulatory and control framework requirements across:PCI-DSS, FISMA, FedRAMP, HIPAA's Security Rule, NERC CIP, ISO 27001, NIST CSF, HITRUST CSF, EI3PA, CJIS, FFIEC, FINRA, NCUA, FDIC, GLBA, and SOX.
Our SecOps and GRC teams work to automate baselining techniques and mapping client controls to existing technological and process-based controls. Through this integrated method, VerSprite has helped clients reduce the burden of compliance audits to technology groups and the overall business. By focusing on real security, VerSprite will help you demonstrate how those controls fulfill regulatory obligations.
Come to know Evolved Security Consulting via additional details around prominent compliance standards and laws via some additional details around prominent compliance standards and laws.
Card security today evolved to include key countermeasures against fraudulent transactions, yet key misses in security architecture, implementation, security configuration and internal fraud continue to wreak losses and liabilities for companies of all sizes. VerSprite is not a QSA but we do perform the heavy lifting when it comes to readiness and remediation. We go beyond project managing your PCI-DSS responsibilities but extend into helping clients operationalize security controls into their technological procedures.
The Card Data Environment (CDE) needs proper isolation from other IT components which may not have the same level of security as those handling payment card systems. Our goal is to provide assurance that CDEs are properly architected and fully patched, hardened, and secured. VerSprite achieves this via both network security audits and penetration testing services. VerSprite's AppSec and SecOps teams perform manual penetration tests for all types of merchants (Level 1 to Level 4). Our GRC teams help define the proper scope in order to ensure that you are not either overscoped or underscoped for meeting the latest PCI-DSS standard.
Specific to point of sale environments, VerSprite has developed a SaaS based offering that allows for greater assurance of POS systems across merchant locations. Our GRC team will also work with our SecOps to ensure POS systems are not just measured for exploitable vulnerabilities but also provide checked for the presence of POS malware kits that continue to evolve into new POS malware strains.
Many organizations and CISOs today are exploiting their own C-Levels and board members by making them think that CapEx expenses across the latest network, application, endpoint tools will equate to improved compliance posture. Over the years, many companies, fully invested in the latest security tools, have fallen short of actual security and even compliance. VerSprite understands the The InfoSec industry still has not learned from these case studies of compliance inadequacies, however, we are here to be a trusted partner.
Our approach to PCI-DSS audit readiness revolves around the following:
A thorough understanding of the latest requirements and addendums issued by the PCI Council.
Official member of the PCI organization in order to stay abreast of ongoing changes in the regulation; this translates to direct readiness efforts that we apply to our client engagements
Scoping – Our expertise in how and what controls to apply based upon the card data flow and lifecycle within client environments.
Audit Checks – We provide both automated and manual controls checks to infrastructure components in order to ensure proper depth of coverage.
Operationalizing security controls with client DevOps teams. VerSprite's SecOps teams can also help to automate controls via programmatic scripts that we've authored in OnPrem and Cloud environments.
Providing technical guidance to control gaps identifeid by our point in time audits or ongoing audit checks supported by various VerSprite's managed service offerings.
VerSprite's Point-of-Sale security research has revealed a multitude of concerns regarding the secure development of payment applications.
Health Insurance Portability Accountability Act (Security Rule)
In the U.S, healthcare records continue to evolve to electronic format as electronic medical records (EMR). EMR records and more specifically, protected health information (PHI) represents data that is used operationally by insurance providers, hospitals, pharmacies, dental groups, and healthcare technology groups. VerSprite has worked with HHS, OCR, insurance companies, large healthcare systems, private practices and 1000+ bed hospitals (collectively known as covered entities) and throughout the years, we've come to understand much more than just compliance gaps in HIPAA's Security Rule. VerSprite will work with you in order to help address such gaps in the context of the business operations that you operate. We are not auditors – we are security professioanls that understand risk and compliance.
Allow us to demonstrate how we can provide a multitude of options and services that are tailored for you and your organization. Key services offerred by our GRC team include the following:
Risk Assessments:
Security converges on process and technological controls. Our risk assessments evaluate your security program to the requirements set forth by HHS and OCR. Our GRC groups are well versed in the Administrative, Technical, Physical, and Operational control domains reflected by HIPAA's Security Rule. Our audits apply to both covered entities as well as business associates who serve the needs of covered entities and who are also in scope for HIPAA compliance. A comprehensvie risk assessment can both uncover control gaps that would benefit from varied remediation patterns presented by our team, as well as define a clear roadmap for an entity in moving forward with a security roadmap. These risk assessments can encompass more than just a review of security processes and IT controls but also include security exercises such as red team exercises, social engieneering exercises, or penetration tests.
Technical Audits on EMR Systems:
VerSprite can provide targeted engagements for covered entities who are most concerned about their technical security posture versus some of the other controls they may have around operational, physical, or administrative controls. Our SecOps team supports our GRC practice by creating specific technical checks that evaluate the configuration of EMR systems. The scope of our expertise includes infrastructure assets like firewalls, wireless routers, servers, mobile client devices, databases, and endpoint devices. Our checks help to address the compliancy of those systems as well as the security resiliency of your network.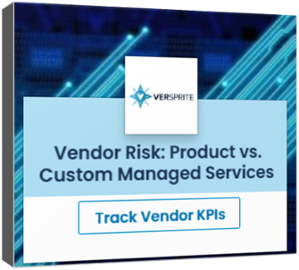 When it comes to vendor risk, what are the pros and cons of product and custom managed services? Which is better for your organization? In this guide we discuss which KPIs are most important and how each type of service stacks up.
Download the guide to learn what to consider in your decision process to determine which solution best fits your organization. Get the Guide →
Let us build a
tailored engagement

for you