Bazarloader & Exotic Lily Analysis
In the month of September 2021, Google TAG researchers discovered a financially motivated threat actor, Exotic LILY. These threat actors were exploiting zero-days in Microsoft's MSHTML (
CVE-2021-40444
) Exotic Lily is an Initial access broker. These threat actors specialize in breaching a company and then selling the access to the highest bidder, and among the interested parties who bid for the same were Conti and Diavol ransomware groups. To breach such companies, it was observed that Exotic Lily was using mass emailing/spoofing campaigns (5000+ emails per day) to attack more than 600 companies. Exotic Lily shifted its focus from IT, Healthcare, and cybersecurity companies to a broader spectrum of companies. Exotic Lily has an unusual level of human interaction while performing these campaigns. Based on the working hours of the group, it can be concluded that the group was from the Eastern/Central European region.
Exotic Lily is also known by these names:
Wizard Spider by Crowdstrike
DEV-0193 by Microsoft
FIN12 by Mandiant
A few days ago, Google TAG Researchers spotted ISO files being used as malware delivery methods. These were specifically made to deliver Bazaar loader DLL files.

File transfer services like OneDrive, TransferNow, and WeTransfer were used to send out these malicious ISO files as attachments in the mass email campaigning.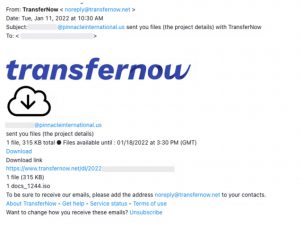 The malware is called
BUMBLEBEE
because it uses a unique user agent, "bumblebee". BUMBLEBEE uses
Windows Management Instrumentation
to collect the system data and then exfiltrate the data in a JSON format. Once this is done, the malware waits for commands from the CNC server. It was also noticed that the CNC server deploys a Cobalt Strike payload. Exotic Lily used identity spoofing to make fake domains of legitimate businesses by replacing TLD with ".us", ".co", or ".biz". Then the attackers would pose as real company employees by copying their data from sites like LinkedIn, RocketReach, and Crunchbase. This slide states the initial contact between the attackers and the victims.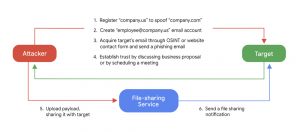 The MITRE ATT&CK TTPs used by the threat actor:
Initial Access ID: TA0001

Phishing ID: T1566

Phishing: Spearphishing Attachment ID: T1566.001

Execution ID: TA0002

User Execution ID: T1204

Malicious File ID: T1204.002

Windows Management Instrumentation ID: T1047
Command and Scripting Interpreter ID: T1059

Windows Command Shell ID: T1059.003

Privilege Escalation ID: TA0004

Exploitation for Privilege Escalation ID: T1068

Exfiltration ID: TA0010

Exfiltration Over C2 Channel ID: T1041
Sample: BazarLoader ISO.iso
SHA256:9fdec91231fe3a709c8d4ec39e25ce8c55282167c561b14917b52701494ac269
Mounting the ISO file gives us 2 files.
Attachments.lnk
DumpStack.log

Sample: Attachments.lnk
SHA256:6497223d35530f2e510382aa1866b83ffaf215213b8080b7ecb299b6e7e3e6b1
At first the Attachment file looks like a shortcut, nothing wrong, huh?
When we opened the shortcuts panel, we discovered the target field with some command.
C:WindowsSystem32cmd.exe /c xcopy /y DumpStack.log c:programdata && C:WindowsSystem32rundll32.exe C:programdataDumpStack.log,spload && exit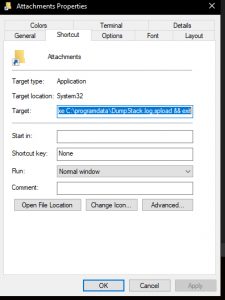 Processes that were started after clicking the attachment.lnk file
C:Windowssystem32cmd.exe cmd /c C:UsersuserAppDataLocalTempAttachments.lnk

C:WindowsSystem32cmd.exe C:WindowsSystem32cmd.exe" /c xcopy /y DumpStack.log c:programdata && C:WindowsSystem32rundll32.exe C:programdataDumpStack.log,spload && exit

C:Windowssystem32xcopy.exe xcopy /y DumpStack.log c:programdata
C:WindowsSystem32rundll32.exe C:WindowsSystem32rundll32.exe C:programdataDumpStack.log,spload
Sample: DumpStack.log
SHA256:4bc9368951402ceeeb84da58c82e02a4ea9e09f5a4425daf5094ea5d87a14e9a
Compiler time stamp: Tue Jan 18 13:47:09 2022 UTC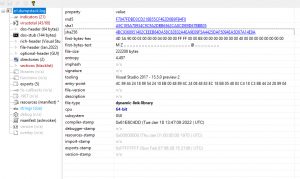 Doing a file command on the DumpStack.log file tells us it is an executable file for Windows.
file DumpStack.log DumpStack.log: PE32+ executable (DLL) (GUI) x86-64, for MS Windows
Exports by the pe file as indicated by pestudio.
FRdCdoy8j LcG8EAd0FAZYIxP spload ------> Function called by the DumpStack.log file. wsscUWQIzudQGV zzKKJMT02C
IP connections made by the malware while executing the DumpStack.log

23.81.246[.]187 185.52.0[.]55 89.163.140[.]67 198.50.135[.]212 45.76.254[.]23 107.174.68[.]120 194.36.144[.]87 51.89.88[.]77 95.217.190[.]236
Domain connections made by the malware:
3conlfex[.]com avrobio[.]co elemblo[.]com phxmfg[.]co modernmeadow[.]co lsoplexis[.]com craneveyor[.]us faustel[.]us lagauge[.]us missionbio[.]us richllndmetals[.]com kvnational[.]us prmflltration[.]com brightlnsight[.]co belcolnd[.]com awsblopharma[.]com amevida[.]us revergy[.]us al-ghurair[.]us opontia[.]us bluehail[.]bazar whitestorm9p[.]bazar reddew28c[.]bazar
BazarLoader ISO samples:
5ceb28316f29c3912332065eeaaebf59f10d79cd9388ef2a7802b9bb80d797be 9fdec91231fe3a709c8d4ec39e25ce8c55282167c561b14917b52701494ac269 c896ee848586dd0c61c2a821a03192a5efef1b4b4e03b48aba18eedab1b864f7
Recent BUMBLEBEE ISO samples:
9eacade8174f008c48ea57d43068dbce3d91093603db0511467c18252f60de32 6214e19836c0c3c4bc94e23d6391c45ad87fdd890f6cbd3ab078650455c31dc8 201c4d0070552d9dc06b76ee55479fc0a9dfacb6dbec6bbec5265e04644eebc9 1fd5326034792c0f0fb00be77629a10ac9162b2f473f96072397a5d639da45dd 01cc151149b5bf974449b00de08ce7dbf5eca77f55edd00982a959e48d017225
Virus total graph for the summary of the malware: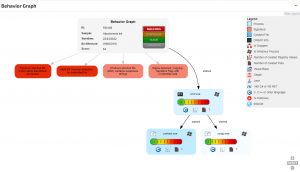 References
https://www.trmlabs.com/post/analysis-corroborates-suspected-ties-between-conti-and-ryuk-ransomware-groups-and-wizard-spider
https://blog.google/threat-analysis-group/exposing-initial-access-broker-ties-conti/
https://www.virustotal.com/gui/collection/55ef10a1ff5363ec2272ba135e7974fcfda7fc7989e84e65dfb76797a165c3f5
VerSprite's Threat Intelligence Group provides organizations real-time threat monitoring, analysis, prevention recommendations, and mitigation. Our elite team works with companies across all industries and security maturity levels to defend against threats. For more information on Versprite's Threat Intel Group or our botnet detection service, BreachSeeker, contact one of our security advisers today.
Learn More →
Subscribe for Our Updates
Please enter your email address and receive the latest updates.