CISO as a Service: What is a vCISO and what are the benefits?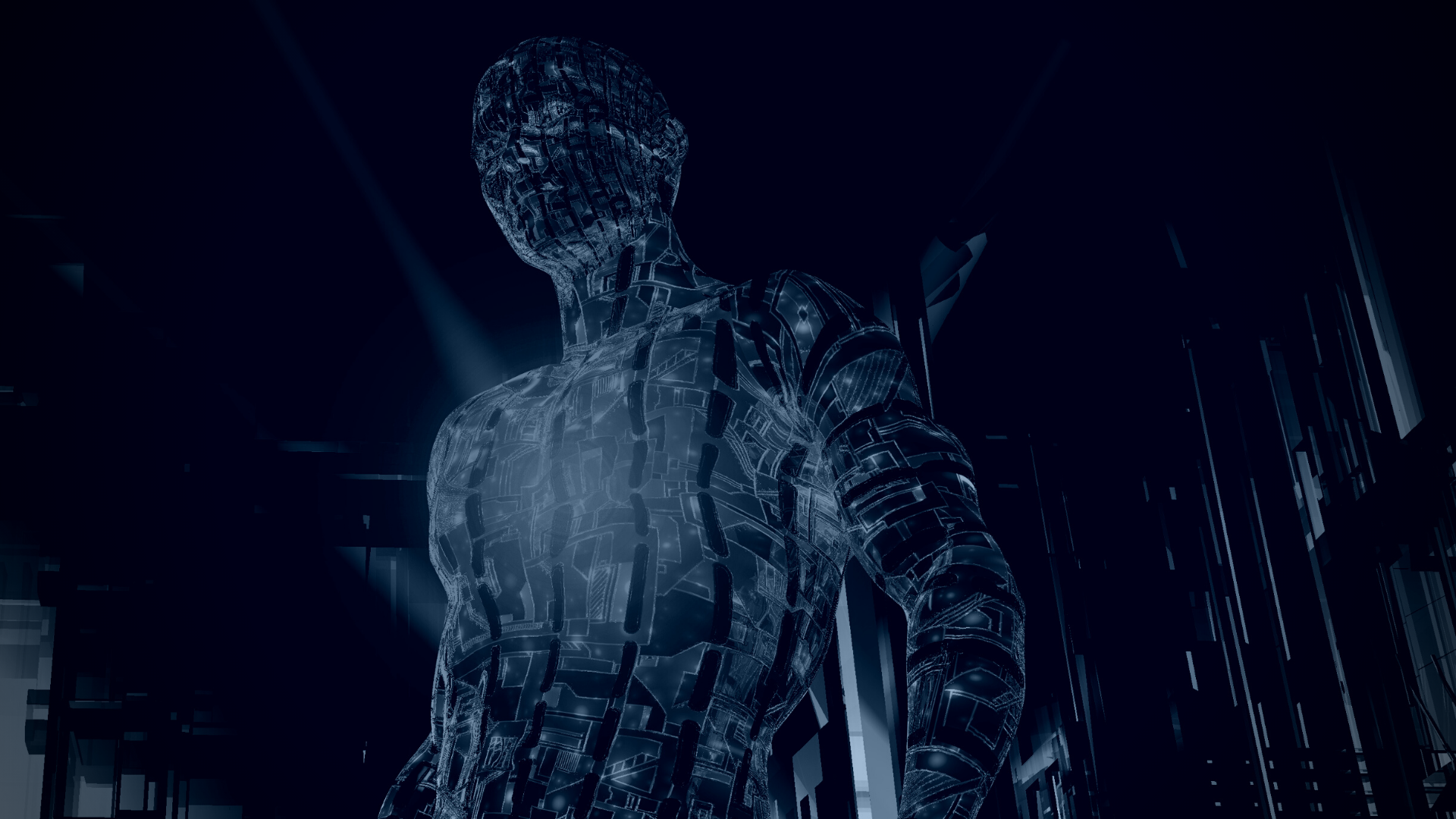 Organizations that value the need for security leadership but can't afford a traditional CISO should consider hiring a Virtual CISO. VerSprite's vCISO services help organizations protect their assets while supporting business operations. Our vCISOs are experienced in helping you drive your security maturity forward.
LEARN HOW IT WORKS →


Every year, the addition of new technology and growth makes securing your organization's data and operations more complicated. As complexity increases, so does the need to have the right team of resources at your fingertips to ensure your security program will adapt. Having a good security program is no longer a matter of deploying tools and securing the perimeter of your data center. Today's environment requires your security program to be structured to meet the needs of the business, protects against adversaries, and adhere to industry standards and regulations. The problem is that organizations, security leaders, and IT teams are exhausted trying to keep up with the Jones' in this arena.
Security programs need to be evaluated and updated often to meet the needs of the business and its' customers. This requires a CISO to be educated and up on the current threats and trends within cybersecurity, on top of needing the time and resources to implement secure strategy. Often an in-house CISO must manage through political situations which could impede their ability to execute on a good security program. A vCISO service can help overworked in-house CISOs manage the daunting task of security, as well as help organizations that lack the resources to have a dedicated CISO on staff to define, plan, and implement a mature security program.
What is a vCISO Service?
A virtual CISO (vCISO) is service supports organizations by providing them an experienced security consultant to help guide organization through developing, implementing, and managing a strong security program. A vCISO may be hired to support an in-house CISO or take on all the duties and responsibilities of a Chief Information Security Officer (CISO) for startups and companies who need interim security leadership. VerSprite's team of vCISOs have executive-level experience creating mature security programs that are tailored to your unique business objectives and operations. They work with both executive and operational teams to design and implement a cybersecurity program.
What Should You Expect from a vCISO Service?
A vCISO works with your company's resources to develop and executive a plan that meets your organization's specific needs. Each security program should be built based on the organization's maturity level. Determining your organization's maturity and is the key to building a roadmap that meets the needs of your business. VerSprite's vCISOs guide organizations through the three stages of creating a security program – Define, Plan, and Operationalize.
Define Your Company's Security Maturity Level
VerSprite's vCISO service starts by performing a risk assessment and a maturity assessment. After assessing the organization, our vCISOs have conversations with leadership to understand where you want your security program to be, (i.e., what maturity level you want to be at). This can be determined by several factors, including which regulatory landscape your company falls under, any past incidents that have dictated some level of ongoing auditing, and – a factor many companies fail to include in their plans – what contractual obligations you have with clients. By utilizing this method, the organization decides how they want to mature their program and together we executive on that plan to deliver a security program that meets the organization's needs.
Create Your Security Strategy Plan
Next, a vCISO will work with your team to develop a strategic security plan. This plan may include things like establishing stronger policies and standards, getting a better idea of your unique threat landscape and library, vendor risk assessments, defining remediation timelines, creating a security awareness training program, and understanding your compliance landscape. Then, they will present it to your executive team and board in a way that even non-technical members may understand, modify, and contribute feedback to.
Operationalize & Implement a Security Program
Once your security plan is approved, a vCISO will help your in-house CISO, security team, and IT team work together to implement the plan and report back to the CRO and/or executive board. These regularly scheduled updates on the plan allows an organization to establish clear direct deliverables and timelines, as well as flexibility to modify these based on new company changes and strategic business changes.
Overall, you should expect your vCISO to be one-part strategic partner and one-part implementation support to help drive your company's security maturity and business objectives.
What are the benefits of having a Virtual CISO?
For starters, one major benefit to hiring a Virtual CISO is that you get a resource that has security experience in multiple markets. A virtual CISO works with many clients and brings to the table not only the expertise in multiple markets, but a plethora of ideas from the different organizations they have worked with. Organizations need someone with not only cybersecurity experience, but experience in determining what should the security strategy be for the type of business to which it is servicing.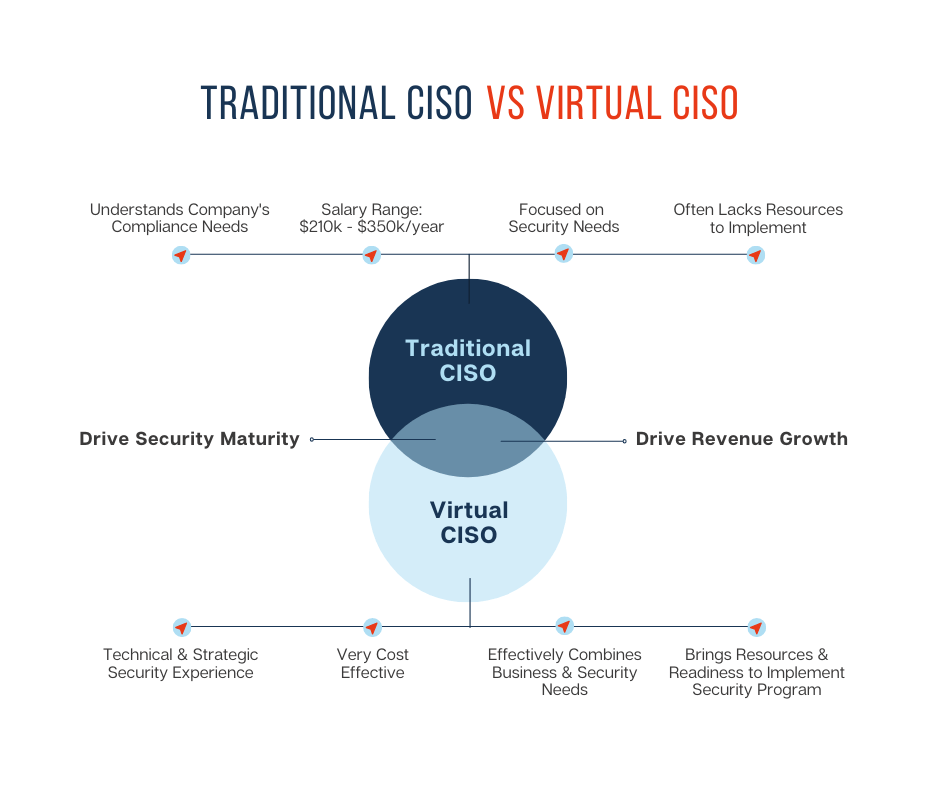 Additional benefits of hiring a vCISO:
Experienced Security Talent

Hiring a third-party vCISO solves immediate staffing needs by bringing the resources needed to implement or enhance the programs. In today's cybersecurity market, there is a huge shortage of resources to fill the roles organizations need and vCISO service providers like VerSprite have the resources to do the job for you.

Cost effectiveness

Hiring a traditional CISO can range from $210k to $350k per year and may not be in the budget for every company. Additionally, not every company needs a full-time CISO on staff. Hiring a vCISO means you are not paying a premium salary to get the benefits of having the necessary actions of a CISO. It also means you are not tasking someone in IT who does not have the knowledge or the experience to fulfill this role. As your budget changes throughout the year, projects can easily be maneuvered to meet the requirements. There is no overhead as there is with a full-time employee, such as health insurance, worker's comp, payroll, benefits, and related HR costs.

No training necessary for the vCISO

A Virtual CISO has such vast experience that they can come in and get the program running immediately.

Virtual CISO services give flexibility

They can be setup on a retainer, a block of hours, or for a specific project. The service is tailored to your business needs.

Availability24x7, 365 days

Because vCISOs bring their own team of security experts behind them, a vCISO service allows you to have greater visibility and coverage for your needs.

A vCISO has experience working with boards to make security a business priority

vCISOs because of their experience, know what information is important and how to present it at a board level. They can present risks to leadership and boards to gain financial and executive support of the cybersecurity program, something many in-house CISOs struggle with. Every leader in an organization needs to be aware of the cybersecurity risks to a company and what that could potentially mean to revenue.
No organization is too small for a cybersecurity program. Every business has an obligation to have the appropriate security controls in place relative to the size of the organization and the operations of the business. Right sizing your security program is imperative to success of the overall organization.
What companies need a vCISO?
A typical startup, small business, or medium-sized organization does not need a full time CISO. For these companies, hiring a vCISO service allows them to understand and meet their security obligation to customers without the costly expense of a full-time CISO.
Companies the benefit the most form hiring a Virtual CISO:
Have sensitive data stored in their environment
Have had a cybersecurity incident
Are going through acquisitions and need to understand the security posture of the companies they are acquiring
Can't afford a full time CISO
Have only a few projects that need guidance
Currently don't have a GRC program in place
One aspect of having a security program is to ensure you have the right roadmap developed and supported by the leaders of the organization. Just adhering to policies and regulations without building a good security roadmap often creates an organization where policies don't match up to the business and are not followed due to the complexity and added stress put on the teams. A good security program enables a business and ensures adherence to various standards and regulations that are relevant to the organization.
Too many organizations view security as a program that it needs to implement once, usually based on industry standards or regulations, and once implemented, the program can just coast along for several years. The reality is that all security programs need to be constantly evaluated and updated based on several factors such as standards, regulations, but also the business environment.
In Short, vCISO Services Help Companies Create Stronger Security Programs
Today's ever-changing environment – from remote workers to increased cyberattacks – leads us to the point whereby all companies must have a strong cybersecurity program in place. A strong cybersecurity program starts with having experienced support that can tailor the program to meet your unique business needs. There are resources available to assist you and a vCISO is a great starting point.
You can no longer sit and think your will not be the target of a cyber-attack or that you don't have the type of data cyber attackers want. Every company is at risk – it is not a matter of if you will be attacked, but when. We need to do our due diligence in establishing a good program that will set us up for minimal impact when a cyberattack does occur.
To get started with VerSprite's vCISO service, contact our sales support.
VerSprite is a global leader in risk-based cybersecurity and PASTA threat modeling. Our offensive security approach goes beyond assessing security controls to examine credible threats to understand the likelihood of real-world abuse cases and measure the magnitude of the business impact if a breach should occur.
VerSprite has proven that by developing a holistic business/IT risk view, security decisions become business decisions. They believe an integrated approach will result in better and more cost-effective security practices and better business outcomes overall. To learn more about our services, visit our service list or contact us to speak to a security advisor today.