VerSprite Partners with Stellar Cyber, Cybereason, & D3 Security to Streamline and Automate Virtual SOC Services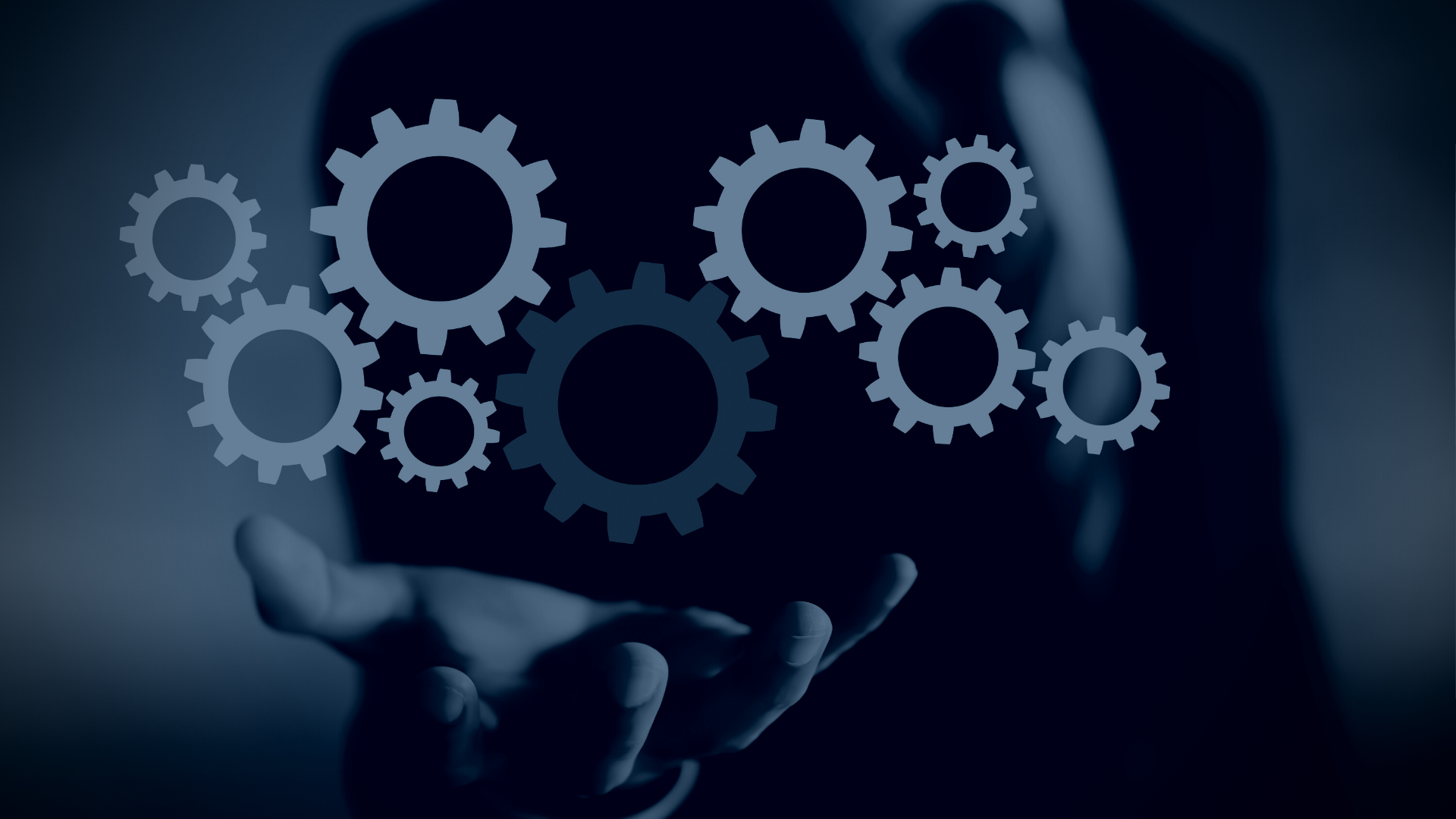 Summary:
Why Virtual SOC?
Operations Center Future – from complexity and overload to automation and intelligent operations.
VerSprite vSOC Full Stack – the people and technology behind the most effective enterprise security.
VerSprite Virtual SOC – effective automation and real-time monitoring.
Geopolitical tensions, economic uncertainties, expanding enterprise network surfaces due to cloud environments, IoTs, and remote workers. These are some of the major factors, that create a perfect storm for threat actors to thrive, seeking out vulnerabilities and weaknesses in networks, and exploiting the slow pace at which organizations are adapting to the rapidly evolving cyber landscape. While companies act on "first expand, then implement security measures" tactic, the threat actors are ready to take advantage of the gap. Add COVID lockdowns, Russian war, tensions with China to these hybrid environments, which drastically changed the cyberthreat landscape, and a traditional security operations center simply cannot keep up, no matter how many new stand-alone tools are employed to help the SOC personnel. More tools, lack of correlation, alert fatigue only create more security gaps and opportunities for criminals. Current models for cybersecurity are insufficient and broken.
VSOC provides the security monitoring, response management, and analysis of the networks, while reducing not only cyber risks, but the cost of operating a traditional SOC. Outsourcing the center to professionals makes securing your organization possible at a fraction of time investment and cost of an in-house SOC.
VerSprite introduced the Virtual Security Operations Center services as we recognized the growing need for effective cybersecurity management. VerSprite vSOC has real-time response capabilities, automation and AI driven solutions. It is operated 24/7 by a skilled cybersecurity expert team. Our security center is a complete tech stack that provides expert analysts, top industry tools integrated into the security processes, custom threat intelligence, and even compliance screening.
Introducing VerSprite Virtual SOC Full Tech Stack:
Top Experts – Leading Industry Security Tools (Cybereason, Stellar Cyber, and D3 Security) – 24/7 Operation
We believe that technology is only as good as the people who operate it. We hire top talent, who undergoes continuous training to stay up-to-date with the ever-evolving cyber threat trends and technology. Our expert team works around the clock to monitor and respond to potential breaches and threats.
Over the years, VerSprite developed many internal security tools and methods, as well as continuously testing new technology to find the best tools to ensure the best possible protection and the most effective vSOC operations.
VerSprite developed a correlated process for the security operations center, that monitors endpoints and data across the entire enterprise and provides instant response and remediation guidance. After an extensive research and testing, we have partnered up with industry's leading cybersecurity providers.
Our full-scope vSOC offering provides EPP (endpoint protection platform) and EDR (endpoint detection and response) developed by Cybereason. It delivers policies, management, and security controls that guard endpoints. Cybereason is operation centric and focused on delivering future-ready attack protection to outpace and stop even the most sophisticated attacks on the endpoint and beyond.
Cybereason platform collects the data and actions of users and communicates the information to the Security Information and Event Management (SIEM). VerSprite works with Stellar Cyber SIEM, an industry-leading security software and the only security operations platform that provides high-speed, high-fidelity threat detection and automated response across the entire attack surfaces. It helps eliminate the data overload and improves security operations productivity while reducing the response time from weeks to days. Stellar Cyber SIEM collects the telemetry and automatically correlates it with other data sources, cloud logs, active directories to give a better picture of an event tied to a user's action, such as engaging with a phishing email. VerSprite's experts utilize the D3 Security next-generation SOAR platform, that allows the security team to rapidly identify and resolve advanced threats. It receives and analyzes the data from the SIEM, then automatically takes an action to alert the team and mitigate the possible risks. The D3 SOAR platform collects data from a variety of sources and then orchestrates tailored responses using playbooks that combine security tool integrations, automated workflows, and human input.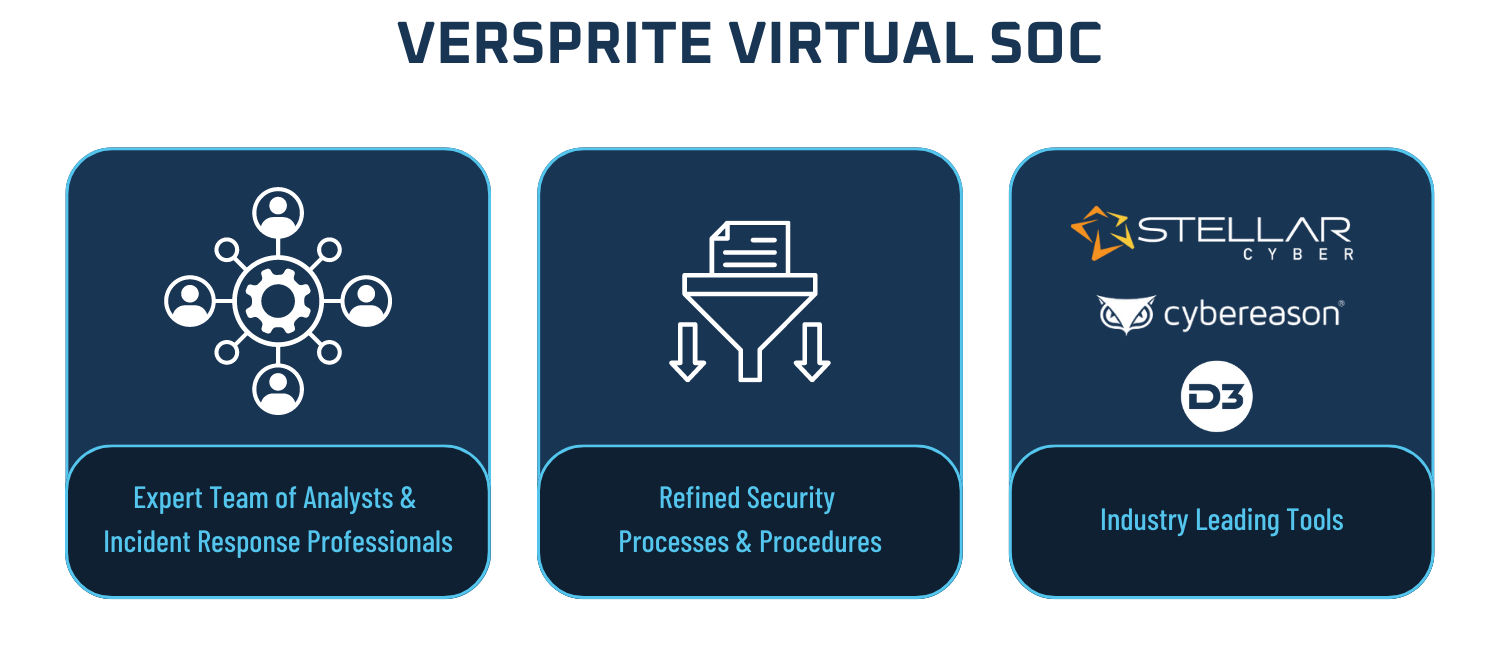 Partnerships with these top security platforms and the highly-trained experts allowed our Virtual SOC to provide the automation and efficiency that meets the demands of the current cyberthreat landscape. VerSprite's refined VSOC, whether fully-employed or an extension to an organization's in-house SOC, ensures insight, coverage, and timely protection across the entire enterprise network, while reducing cost and eliminating the complexity.
Evin Hernandez, VerSprite VP of Product, explains the benefits of the VerSprite virtual SOC:
"By using our virtual SOC, we can prioritize security events by focusing on the incidents that have the most impact to your business, using the latest threat intelligence to prioritize, respond, and remediate these events. In an on-premise model, it would be up to each security analyst to communicate with other analysts to determine whether each tool's individual detection, while possibly looking benign, can correlate with other detections from other tools to reveal a complex attack. This is all taken care of by VerSprite's virtual SOC security experts."
Virtual SOC reduces risks and enhances security and effectiveness, which translates into higher ROI while scaling the business securely. It saves companies 50-75% by dispelling startup cost, such as procuring proper tools, reducing the time it takes to become operational, and eliminating the ongoing management expenditure (hiring and training staff, managing multiple product licenses). Employing a virtual SOC allows enterprises to make a shift from the complexity of sustaining an in-house security center to the efficient intelligent cybersecurity management and real-time monitoring.
For more information on how VerSprite can help consolidate your organization's security efforts, contact us.
VerSprite provides enterprises with results to support their security efforts, meet business objectives, and provide stakeholders and decision-makers with solutions and guidance to scale the business.