VerSprite's Evolved Cybersecurity Solutions, Consulting, and Advisory Services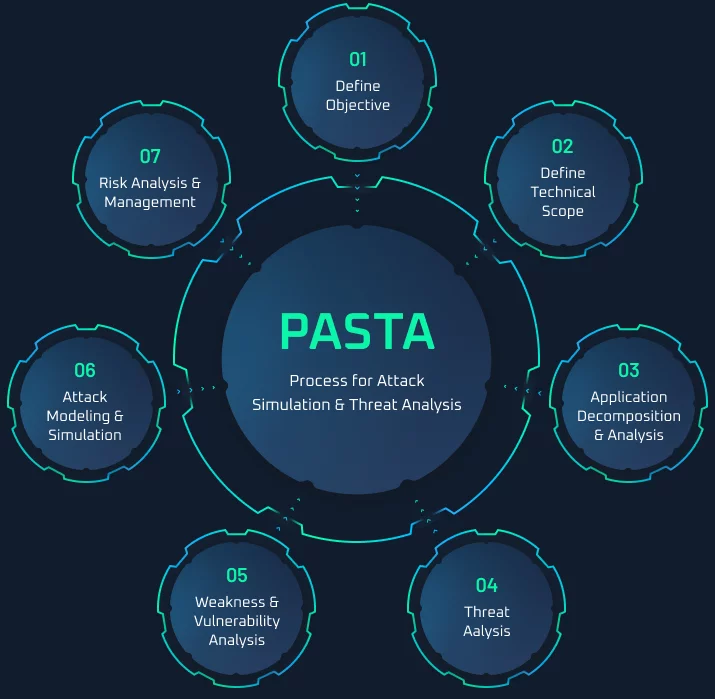 7 Stages for Simulating Attacks and Analyzing Threats
With the objective of minimizing risk and associated impact, the Process for Attack Simulation and Threat Analysis (PASTA) consists of 7 stages for simulating attacks and analyzing threats to the organization and application in scope. Learn more about our risk-based process for mitigating cybercrime risks by looking at cyber threat mitigation as a business problem.
With cyberattacks increasing in number and sophistication daily, organizations must adapt to the ever-evolving threat landscape.
VerSprite approaches cybersecurity from a holistic risk management perspective. As a leading global cybersecurity consulting firm, our mission is to provide organizations with detection across all their attack surfaces and deliver critical insight into all possible attack methods.
In addition, VerSprite offers advanced security solutions like our cyber threat intelligence portal and our cloud security assessment platform. VerSprite's products help organizations track high profile threats, understand their security risks and the related business impact, and improve their cybersecurity posture.
VerSprite performs an dynamic analysis and static analysis of web applications and exposed APIs that support vital client information to validate an organization's security posture. VerSprite's application security experts conduct manual security testing of web presence to identify application flaws around authentication, vulnerabilities from web frameworks, injection mitigation, malicious file uploads, and other types of web-based attacks.
" It is with great pleasure that I recommend the great folks at VerSprite Security. This firm has enabled my teams to demonstrate the value of application security testing on multiple engagements. I can assure you they provide an incredible breadth and quality of security services at a great rate. Versprite set the bar very high when it comes to incredible customer service, technical proficiency, as well as providing assurance and effectively articulating risk… "
97% client retention rate, over ten years
– Director for a major international telecommunications company.
"…It has been my personal experience that the VerSprite team doesn't just provide visibility into the 'opportunities to improve appsec', but provides and assists organizations understand clear recommendations on how to remediate those opportunity – This competency and incredible value proposition makes VerSprite a strong player to add to your firms security testing portfolio. "
97% client retention rate, over ten years
– Director for a major international telecommunications company.
Your organization provides excellent security services. I congratulate you on assembling and maintaining a great team of 'can do' versus paper consultants. The high standards you've set and maintained for your organization is a key factor for why we're in year three with VerSprite. To anyone or organization desiring strategy consults, implementation and/or operational support services, I recommend the VerSprite organization.
97% client retention rate, over ten years
– VP of Fortune 10 U.S. company
We do have a basic "Bug Bounty" program, but realize that the work you guys have done is much more advanced than identifying the average glitch or bug.
97% client retention rate, over ten years
– Director, Multi-National Company in Software Development
We get assessed continuously and understand the business driver, but this vendor assessment [by VerSprite] has been both enlightening and relevant to what we provide as a service to our client.
97% client retention rate, over ten years
– Austin based SaaS Provider
Let us build a
tailored engagement

for you