Virtual CISO Solutions by VerSprite: Cybersecurity Leadership When You Need It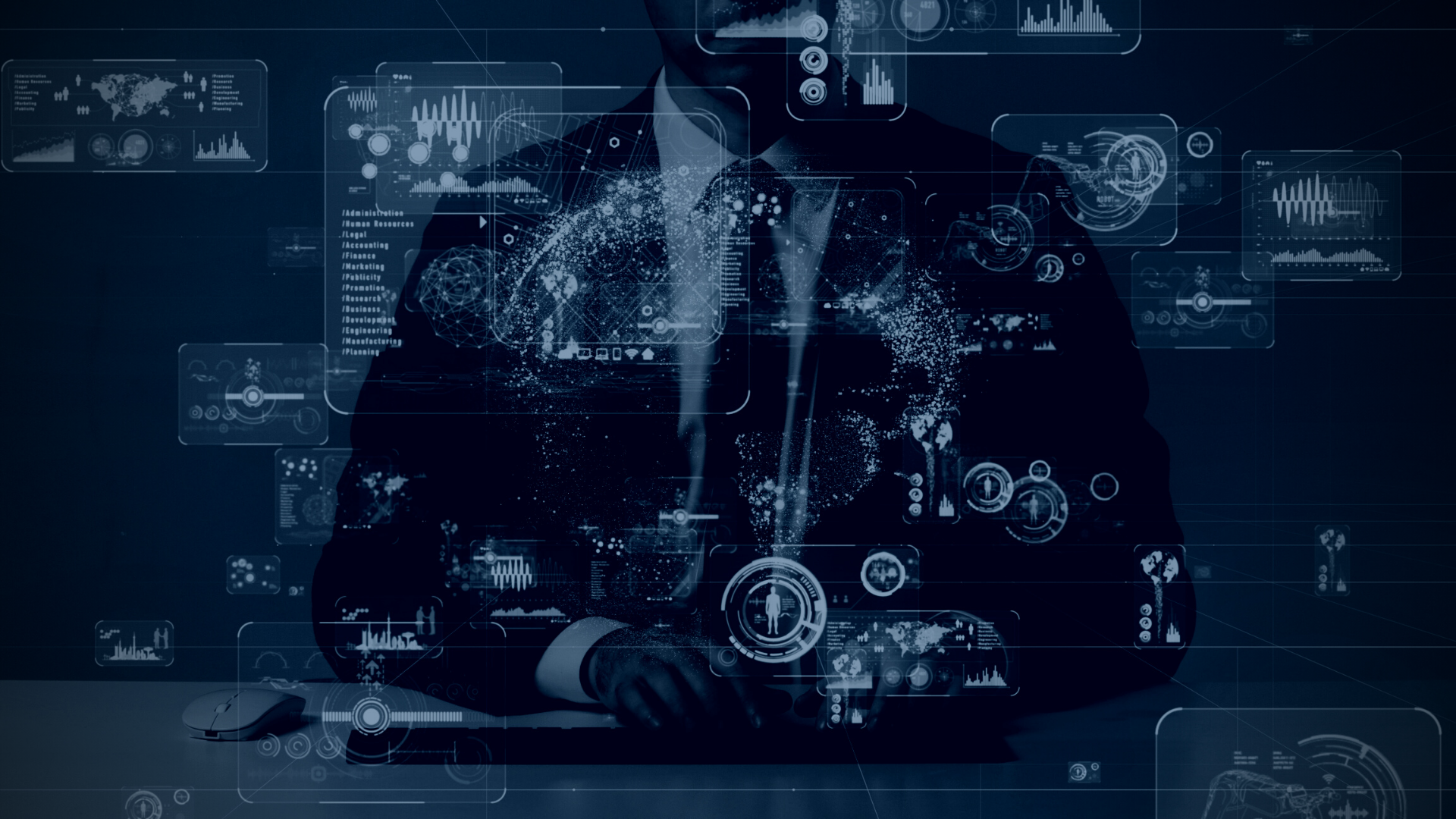 In the fast-evolving landscape of cybersecurity and compliance, organizations that recognize the critical need for robust security leadership but face constraints in affording a traditional Chief Information Security Officer (CISO) should explore the invaluable benefits a Virtual CISO offers.
Virtual CISO Solutions by VerSprite are tailored to assist organizations in safeguarding their assets while ensuring the seamless continuity of business operations. Our vCISOs have extensive experience in elevating security maturity, making them an ideal choice for companies navigating the intricate challenges of modern cybersecurity.
Regulation Alert for Healthcare Organizations
In light of recent developments, particularly the proposed enactment of a new regulation by the New York governor mandating hospitals to appoint a CISO, VerSprite's vCISO services emerge as a strategic solution for healthcare institutions grappling with compliance requirements. This regulation underscores the critical need for specialized cybersecurity leadership in the healthcare sector, where sensitive patient data is at constant risk. VerSprite's virtual CISOs stand ready to collaborate with hospitals, ensuring not only compliance with regulatory mandates but also the development and implementation of a tailored security program that aligns with the unique needs and objectives of the healthcare industry.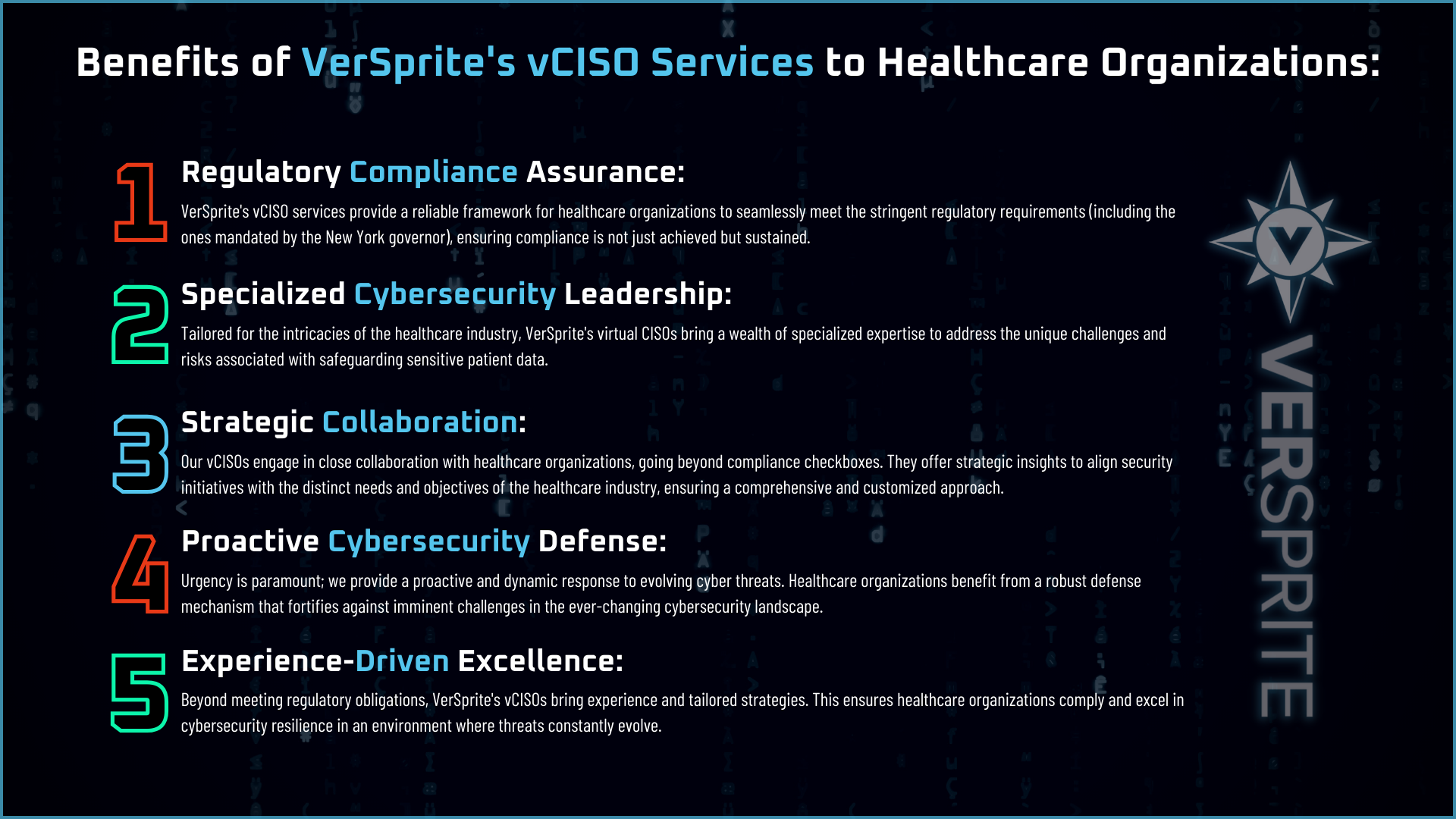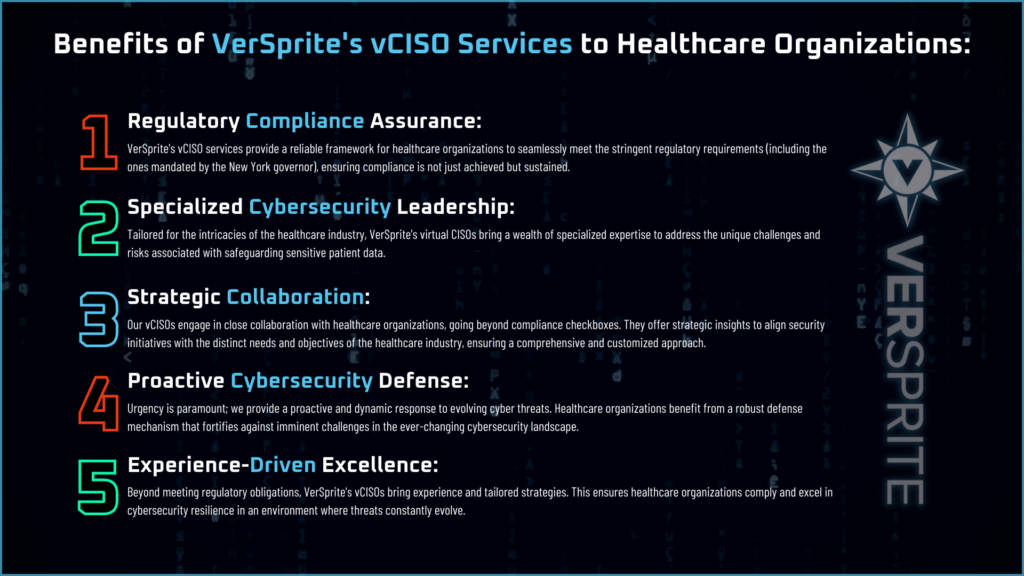 VerSprite's vCISOs serve as strategic partners, bridging the gap for overburdened in-house CISOs and organizations lacking dedicated security leadership. A virtual CISO provides a cost-effective solution, offering immediate access to experienced security consultants with executive-level expertise. These consultants collaborate with both executive and operational teams to design and implement a cybersecurity program that not only meets compliance requirements but also aligns with the unique objectives and operations of the business.
What Should You Expect from a vCISO Service?
The vCISO engagement follows a structured process, starting with a comprehensive risk assessment and maturity assessment. VerSprite's vCISOs engage in dialogues with organizational leadership to understand desired security program maturity levels, considering factors such as regulatory landscapes, past incidents, and contractual obligations. This collaborative approach empowers organizations to define and execute a customized security strategy that effectively mitigates risks.
Subsequently, the vCISO works closely with the organization to develop a strategic security plan. This plan involves establishing robust policies and standards, thoroughly understanding the threat landscape, vendor risk assessments, definition of remediation timelines, and creating a comprehensive security awareness training program. Importantly, VerSprite's vCISOs present this plan in a clear and comprehensible manner to the executive team and board, ensuring that even non-technical stakeholders can contribute feedback.
Once the security plan gains approval, the vCISO actively supports the in-house CISO, security team, and IT team in implementing the plan. Regular updates are provided to the Chief Risk Officer (CRO) and executive board, ensuring transparency, accountability, and flexibility to adapt to evolving business changes. In essence, the vCISO serves as both a strategic partner and implementation support, driving the organization's security maturity and business objectives.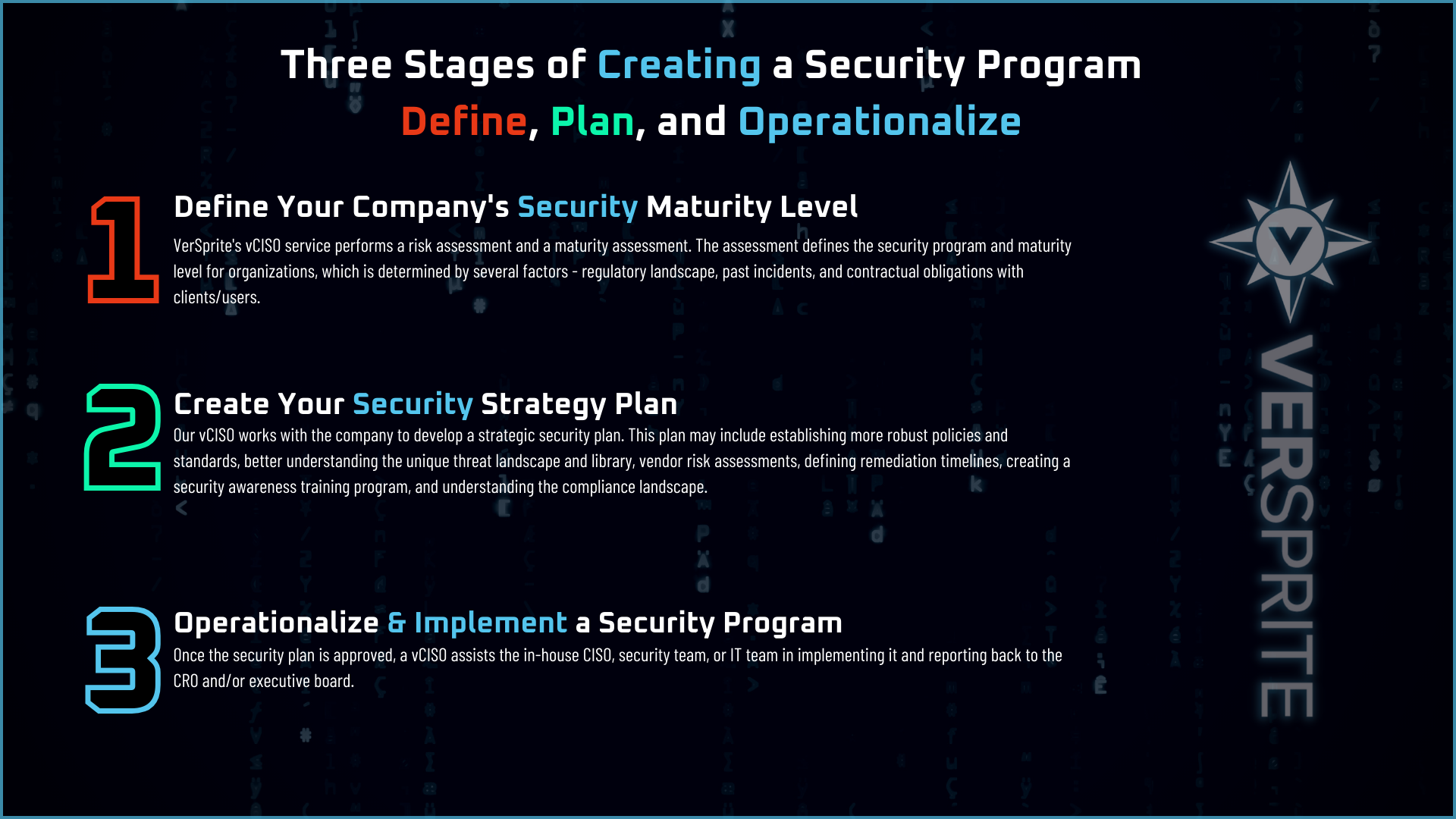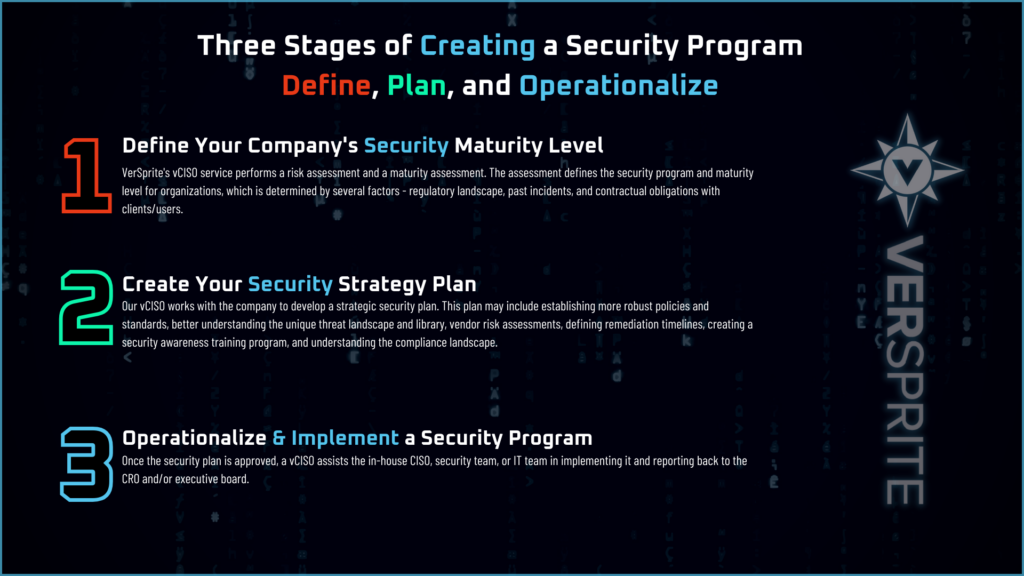 The benefits of engaging a Virtual CISO are multifaceted:
By creating a cybersecurity program specific for your organization vs doing a checklist of controls to implement, we are able to save healthcare organizations thousands of dollars on tools that are implemented without identifying the risk the tool is mitigating and/or not completely implementing the tool.
Access to experienced security talent with exposure to diverse markets, bringing a wealth of ideas and expertise. VerSprite's vCISO services address immediate staffing needs, offering a cost-effective alternative to hiring a traditional CISO, whose annual salaries can range from $210,000 to $350,000.
The flexibility of vCISO services allows organizations to tailor engagements to their specific needs, whether on a retainer, hourly block, or project basis.
The vCISO model eliminates the need for extensive training, as experienced virtual CISOs can swiftly integrate into the organization and commence program implementation immediately.
24×7 availability of vCISOs, backed by a team of security specialists, enhances visibility and coverage, ensuring a proactive approach to addressing cybersecurity needs.
vCISO's ability to effectively communicate security risks to boards facilitates executive support for cybersecurity programs, a challenge often faced by in-house CISOs.
Companies that benefit the most from hiring a Virtual CISO:
Have sensitive data stored in their environment
Have had a cybersecurity incident
Are going through acquisitions and need to understand the security posture of the companies they are acquiring
Can't afford a full-time CISO
Have only a few projects that need guidance
Currently don't have a GRC program in place
One aspect of having a security program is ensuring you have the right roadmap developed and supported by the organization's leaders. Just adhering to policies and regulations without building a good security roadmap often creates an organization where policies don't match up with the business and are not followed due to the complexity and added stress put on the teams. A good security program enables a company and ensures adherence to various standards and regulations relevant to the organization.
The establishment of strong security programs in all companies is a must for all organizations that focus on continuity and scalability. VerSprite's vCISO services provide a tailored and proactive approach to creating robust cybersecurity programs that align with business objectives. A virtual CISO is a strategic investment, offering the expertise and flexibility needed to navigate the complexities of modern cybersecurity and ensure your organization's long-term security and success.
---
To get started with VerSprite's vCISO service, contact our team.